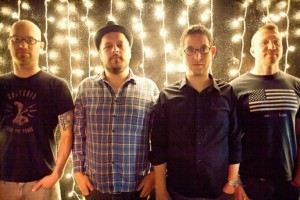 Oklahoma City, OK's Red City Radio have announced the title of their forthcoming debut full-length for Paper and Plastick. The record will be titled The Dangers of Standing Still and it's expected out later this year. We first told you about the signing back in May. The group recently entered the studio with producer Stephen Egerton to begin work on the album and guitarist/vocalist Paul Pendley commented on the new material:
"On the new album, we don't think there will be a huge sonic departure from our EP, though it will sound a little more polished. For the most part, the songs follow a similar template as our EP - big choruses, big hooks, but with some new surprises."
Once out, The Dangers of Standing Still will follow up the band's 2009 EP To the Sons & Daughters of Woody Guthrie. That EP is slated for a vinyl release soon through Loose Charm Records. Red City Radio will be playing a leg of the upcoming Think Fast! Booking showcase tour, including a stop at The Fest 9 in Gainesville, FL.