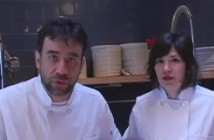 24-Bit is reporting that Carrie Brownstein of Sleater-Kinney will be launching a new sketch comedy show with longtime comedy partner Fred Armisen. The two have been collaborating on an online comedy series called ThunderAnt and IFC is currently looking to produce a televised version of the duo's comedy.
Though Armisen is best known these days as a member of Saturday Night Live, he was a member of Trenchmouth and also drummed on Les Savy Fav's Let's Stay Friends.
Check out some of the videos Carrie and Fred have produced on their website.