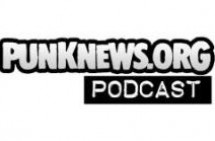 We've heard and mentally documented your cries for help, and we're happy to report that the dulcet tones of interviews editor Rich Verducci return to the show this week to reform the original lineup with myself and news editor Adam White. The three of us dissect such hot button issues as Weezer's planned Blue Album/Pinknerton tour, the Guitar Hero 6 lineup, new albums from None More Black and My Chemical Romance ( I smell a co-headlining tour!), as well as The Vandals' ongoing problems with Variety magazine.
Plus, brand new music from The Brokedowns, Carpenter and Captain, We're Sinking that you likely haven't heard anywhere else.
Also, I talk with Barrie from Generic Insight Radio about an upcoming show she's organizing for the Jake Stults Foundation.
You can click Read More to stream and/or download the show, or subscribe via RSS or iTunes. Don't forget to give us your feedback in the comments section or via e-mail.
NOTE: Apologies for some of the audio issues both in the initial interview as well as the first section of the roundtable. It gets much better after that, promise.