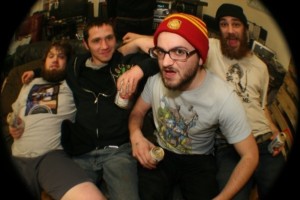 Scranton, PA's Captain, We're Sinking recently wrapped up a tour in support of their new 7" for Kind Of Like Records, It's a Trap. Today, we're happy to bring you the third and final installment of their diary from the road. In this dispatch, the band begins to traverse the midwest and deals with a Creed fan in Louisiana, a kitchen show in Illinois, and Star Wars-themed rapping in Ohio, among other things.
We're back! This is the last one so you better enjoy it. When we last left you we were heading to Houma, Louisiana. Houma, eh? What gives? Who goes to Houma? Well let me tell you that Houma, Louisiana is the fucking place to be. Here's why.
Houma, Louisiana - After our all nighter pool party in Tallahasse we woke at 9 for the 7 hour hike to Houma. We show up and our friend Tucker who set the show out ran out to greet us with a drink in hand. Boy I love Houma. Tucker set up a full BBQ for us with crazy food. I love Houma. After getting some beers, shots, and food in us it was time to play. Before our first song, a local asked if we knew any Creed. He left after our first song. Our set was interrupted by Tucker who gave us some more shots. Heart burn. We partied hard after the show and made some great friends. Thanks to Eddie, Tucker, Cory and all. Everyone needs to check the Boxer and the Barrel in Houma, Louisiana. If you are a band, play there. You won't regret it.
Normal, Illinois - Yes you are reading this correctly, we played Lousiana then Illinois. We had a day off though. Feeling freshly recharged we hit Normal and played a crazy show. We set up in the kitchen and went at it. Kids jumped off kitchen counters, beers flying around, beers being consumed in mass quantities. It was one of my favorite shows. We lost Zack for a while and found him at the end of the night across the street at a kegger. Weird stuff. My man Cory hooked me up with a Mets jersey and I passed out on his floor watching Mallrats. We went to a place in Normal called Firehouse Pizza where our friend Zack hooked us up with 4 dozen wings to take on the road with us! Thanks again!
Kalamazoo, Michigan - This was a last minute show because our show fell through in Lansing. We are very happy it did because we had a time and a half. We played with killer bands and had the best nachos ever made by my man Shafto. Bottles of whiskey were drank and Bill was on a rampage. I woke up to three kids that were in a real life "Dude Where's My Car" moment. They had a wedding to be at and their suits were in the car that they couldn't find. Hope all went well!
Cleveland, Ohio - We played a rad show at The Scourge House with Signals Midwest and it was great! Fantastic way to end this tour. We couldn't stay and hang but we talked some Star Wars and busted out our Star Wars rap. We left and stayed at our best bud Mike May's house in State College. I stole his sunglasses and he's still bugging me about it.
Long Pond, Pennsylvania - This is Bill's house. Our coming home show. We ate a bunch and played with our friends bands, Three Man Cannon and Greek Favourites. Saw our friends and had a great time.
Well this shit is over. As I speak now I'm heading to Knobeles Theme Park to conquer roller coasters with Pat who plays in Tigers Jaw and Three Man Cannon and our friend Audrey who represents Scranton with a silver sword. She's a cutie.
Until next time!!!