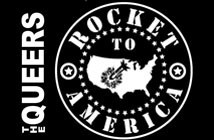 The Queers have a new album coming out on November 16, 2010 called Back to the Basement. They will embark on a US tour st starting November 11th in Pensacola, FL. This time through they're bringing their friends Kepi Ghoulie and The Riptides along for the journey, but they also want your band too.
The following contest is for your band to open for the queers. We will have a virtual talent contest. Just send us a link to your music whether it be myspace, facebook, youtube.. or whatever. But nothing to be downloaded. And the punknews staff will pick a winner in each city on this tour. Take a look at the tour dates below and if you are from any of the following cities(or close by) then go ahead and submit your band to open the show.
THE PRIZES
an opening slot for one show with the QUEERS, KEPI GHOULIE, and THE RIPTIDES.
each winner will also receive a prize pack consisting of QUEERS T-SHIRTS, CD'S, and POSTERS
RULES
Open to all bands who are local to the cities on tour.
Send an email to queers@punknews.org
Punknews.org will only contact you if you win.
You also give us permission to use your first name and city when announcing the winners.
All entries must be received by September 27th.
Each entry needs to send a link to their music, but nothing to be downloaded. Easiest thing to do is send us to your myspace player.
FORM should have the following:
BAND NAME
EMAIL ADDRESS
STREET ADDRESS
CITY
STATE
ZIP CODE
MUSIC LINK
| | | |
| --- | --- | --- |
| November 11, 2010 | Pensacola, FL | Vinyl Music Hall |
| November 12, 2010 | New Orleans, LA | One Eyed Jacks |
| November 13, 2010 | Houston, TX | Fitzgerald's |
| November 14, 2010 | Corpus Christi, TX | House of Rock |
| November 16, 2010 | San Antonio, TX | Korova |
| November 17, 2010 | Austin, TX | Red Seven |
| November 18, 2010 | Denton, TX | The Boiler Room |
| November 19, 2010 | Oklahoma City, TX | The Conservatory |
| November 20, 2010 | Albuquerque, NM | the Launch Pad |
| November 21, 2010 | Tempe, AZ | Chaser's |
| November 23, 2010 | San Diego, CA | Casbah |
| November 24, 2010 | Victorville, CA | Victorville Events Center |
| November 26, 2010 | Hollywood, CA | Troubadour |
| November 27, 2010 | San Francisco, CA | Bottom of the Hill |
| November 28, 2010 | Santa Cruz, CA | Blue Lagoon |
| November 29, 2010 | Stockton, CA | Plea For Peace Youth Center |
| December 1, 2010 | Portland, OR | Dante's |
| December 3, 2010 | Seattle, WA | El Corazon |
| December 4, 2010 | Spokane, WA | Cretin Hop |
| December 5, 2010 | Billings, MT | Railyard |
| December 7, 2010 | Denver, CO | Marquis Theater |
| December 8, 2010 | Omaha, NE | Slowdown |
| December 9, 2010 | Minneapolis, MN | Triple Rock |
| December 10, 2010 | Madison, WI | Frequency |
| December 11, 2010 | Chicago, IL | Reggie's |
| December 12, 2010 | Detroit, MI | Small's |
| December 14, 2010 | Cleveland, OH | Grog Shop |
| December 15, 2010 | Newport, KY | The Southgate House |
| December 16, 2010 | St. Louis, MO | Firebird |
| December 17, 2010 | Paducah, KY | Twilight Tea and Coffee |