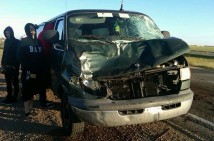 We've got some more details regarding the accident involving We Are The Union and a moose that happened in Saskatchewan early yesterday morning. After our story was posted, we found out that the animal was knocked into the adjacent lane of traffic after being hit by the band's van, setting off an unfortunate chain of events that saw a pickup truck collide with the moose, ejecting both passengers from that vehicle and killing one of them. Vocalist/guitarist Reed Wolcott left a comment on our original post, explaining the scene:
"Well, right after the wreck, the moose was in the right lane and we were in the shoulder. We sat there for 1 or 2 minutes in disbelief, then after seeing two cars and a semi hit the carcass and almost wipe out, Matt grabbed a flashlight and started signaling cars to get over into the left lane. We managed to get everyone to move over and slow down until the pickup came along. Matt tried to signal it with a flashlight to get over and slow down, but they must have been going 20 over. They hit it and spun 180 degrees, slid across both lanes, hit the grass median and started rolling. Some of the other guys saw two bodies fly from the truck. A bunch of us ran over to see if they could help, I grabbed a flashlight and spent the next 20 minutes trying to convince myself that the screams I was hearing from the wreck weren't coming from a person, signaling cars to get in the right lane until the police showed up to block the freeway.
We appreciate everyone helping us out with donations to get us back on our feet and the sympathy, but the only tragedy here is the two people who lost a family member this morning. We're all okay, trying to figure out a way to continue the tour. Don't worry about us. Worry about them."
Our sincere condolences go out to the family and friends of the person whose life was lost. In less important news, We Are The Union intends to continue on with the tour alongside Strung Out and Rufio, which stops in Winnipeg tonight.