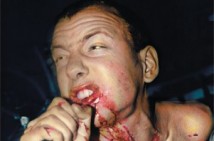 Steven Blush's controversial 2001 book American Hardcore is headed for an expanded second edition. The publisher said this:

The author has updated all of the chapters, added a new one titled "Destroy Babylon," which explores the mutant forms of spirituality that came from the movement, and interviewed over twenty-five new subjects. Blush also has unearthed over a hundred new pieces of artwork, drafted two hundred plus new band bios, and radically expanded discography. Most significant, he has offered a new conclusion which is an anomaly within the realm of period studies. The original book was 328 pages, and the revised edition is now 408.
The new edition is due out November 1, 2010.
In 2007, a documentary version of the book was released and we spoke with author Blush and director Paul Rachman. Check out the interview here.