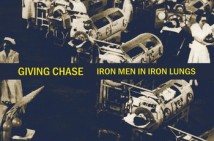 Philadelphia, PA's Giving Chase have posted a new EP entitled Iron Men in Iron Lungs as a pay-what-you-want download. It's available at their Bandcamp page.
The EP serves as a sort of preface for the band's next full-length, which is expected out in October and will be the band's first since 2007's A Cheap Print of a Masterpiece.
UPDATE: The tracks, which turned out to be rough masters, have been taken down by the band. The official release of the EP is slated for October 26, 2010. The band is working on new material, but there are no plans for a new full-length as of yet. Sorry for the confusion.