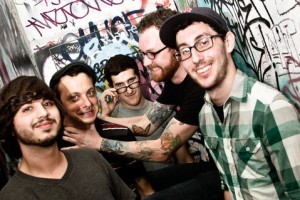 Punknews.org is elated to first reveal that Daytrader, who feature current and ex-members of Crime in Stereo and Bridge and Tunnel, will release their proper debut 7-inch on Run for Cover Records in January 2011. The band is planning on hitting the studio in November to track it.
Additionally, the Long Island/Brooklyn-based act have posted their three-song demo for free download at their bandcamp page. They're also planning its physical release with a limited pressing of 7"s and cassettes, likely to be self-released.
To that end, they've also announced their first shows. They'll be playing with the likes of A Wilhelm Scream, O Pioneers!!!, Tigers Jaw and more. More shows and possible touring are in the works as well.
10/21 Trenton, NJ @ Mill Hill Basement w/ O Pioneers!!!
10/23 Long Island, NY @ Bergen Point Country Club w/ Tigers Jaw, Agent, Polygon
11/3 Philadelphia, PA @ The Fire w/ A Wilhelm Scream
11/4 Newark, DE @ the University of Delaware w/ Agent