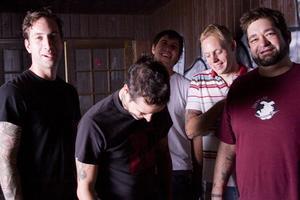 Just days after announcing an indefinite hiatus for The Casting Out, Boy Sets Fire, which shares vocalist Nathan Gray, will be reuniting. The band said this:

We were never a normal band. We never did the right things. We never looked cool. We did everything exactly the way we wanted. Trends weren't important. Being hip wasn't important. There was only two things that were important and sacrosanct; the friendship between the five members of this band, and people who we touched with our music.

We were a band for over a decade. We decided that we wanted to try different things with our lives. So we stopped playing music together. It wasn't Noel/Liam Gallagher ugly; we parted as friends and we generally see or talk to each other all the time. I think we underestimated how much we would miss it. The communion, the intensity, the genuine outpouring of emotion- it just doesn't exist for us without BoySetsFire. So we are going to start playing together again.
So far, the band has confirmed one show, in Berlin on December 5, 2010.