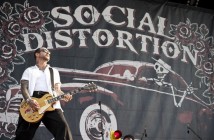 Mike Ness of Social Distortion has confirmed that the band's highly anticipated Epitaph Records debut will now be released in 2011. In an interview with the Salt Lake Tribune, he confirmed the delay as well as explaining the title, Hard Times & Nursery Rhymes:

Music does the same thing for adults that nursery rhymes do for kids: It gives them an escape, and [it's about] not growing up. I'm not afraid of taking risks. It helped me in the direction of this new record
The album is their first since Sex, Love and Rock 'n' Roll which was released in 2004. The band released a Greatest Hits album in 2007 and will be touring this month.