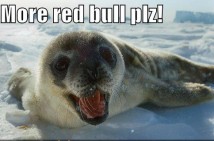 Energy drink behemoth Red Bull has backpedaled a bit in their Noise Complaint marketing campaign. The original plans for the campaign called for a competition among bands, with four semi-finalists winning the "opportunity" to play a basement show in New Brunswick, NJ, with the winner grabbing an opening slot on Thursday's year-end Full Collapse anniversary show at Starland Ballroom in Sayreville on December 30. Members of Thursday were to be part of the panel judging the bands.
Many folks in the New Brunswick basement show community cried foul on the marketing campaign, citing concerns that it seemed to suggest that basement and house shows weren't inclusive and acknowledging that the company had either ignored or failed to realize that many artists elect to play these spaces to avoid influence from corporations such as, say, Red Bull. Aaron Scott of Attica! Attica! launched a Facebook campaign here in protest of the marketing campaign, eliciting an impassioned response. Shortly after the backlash started, Red Bull decided to move the competition to New Brunswick venue and non-basement The Court Tavern. Company representative Keith Wescott posted this statement on the campaign's Facebook page:
"We do not want to bring attention to something that would potentially cause the City of New Brunswick to shut down even more basement shows than they already do. Show will be on Saturday November 13th from 3:30 PM to 6:30 PM, all ages, no cover. Bands will be announced on Monday."
The competition will continue as planned at The Court Tavern, with Thursday still involved in selecting the winner.