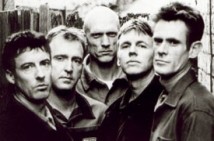 Me First and The Gimme Gimmes have revealed the plans for the rest of their recently announced new EP:

Any new Me First music on the way? No, we don't have a new record. It's getting harder and harder to find good songs to cover. There are no more good songs in the world! We've done 'em all. Like, we're doing an EP of all these Australian artists, since we're touring down there…let me tell you, it's hard finding five good Australian songs. We're doing Rick Springfield! People are like, "Do Crowded House, do Midnight Oil." We won't because they're terrible 80s bands. Oh, and the Bee Gees…fuck! Disco was terrible. People look back on those eras…there's nothing romantic about it. The 80s were terrible, too -all hair metal and stupid dance-pop.
The infamous punk rock covers supergroup last released Have Another Ball in 2008, and will be touring the east coast later this month with labelmates Teenage Bottlerocket and Cobra Skulls, including an appearance at The Fest 9 in Gainesville, FL over Halloween weekend, where we can only speculate as to what their costumes may be.