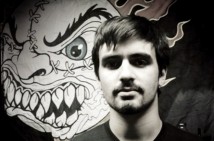 Former Madball drummer Jay Weinberg has responded to the criticisms and implications made by vocalist Freddy Cricien about his departure. He disputes that he was fired, and adds:

However, Freddy has grossly mischaracterized my time with the band in the press; yet I have not responded publicly to any Madball statements. It is true that everyone is entitled to their own opinions – but not their own facts!

I agree that Madball will be better served by an individual more attuned to their particular lifestyle and, occasionally, a new band member will grind gears with long-time members over non-musical issues. To each his own. But, let me be clear – while I really enjoyed playing the music, I do not subscribe to their choice of habits and lifestyle. This past August while on tour in Europe, disturbing events within the band indicated to me that it was time for me to move on. Timing is everything, and who would disagree that one cannot be fired after having quit – decisively, amicably, and well in advance of Freddy's harsh and public "spin" of the facts.
Check out his statement on his Facebook Profile.