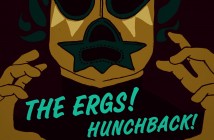 While The Ergs! remain broken up, they are breaking their break up for one day to help raise money for a friend's medical bills. The band will be performing one night only to raise money for medical bills. They said this on their website:

For one night only The Ergs! and Hunchback will reunite to kick medical bills in the arse. Jackie Nixon (J Nixon's mom) is battling cancer. We want her and her family to use their energy to fight this disease, not worry about bills. Help us help them and come support this cause! All proceeds go directly to the Nixon family. Information about the show is on Lauren Measure's amazing flier. Tickets go on sale (prob next tuesday? finding out today) Also on sale that day: posters drawn by Perry Shall, Marissa Paternoster, Jason Insult, and Mike Diana! Tshirts designed by Bryan
The show is set for December 5, 2010 at Asbury Lanes and will also feature Hunchback.