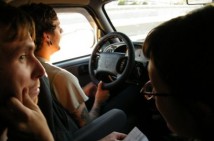 Lemuria's van was robbed and destroyed over the weekend, here's what the band said-

Our van was robbed and destroyed this weekend, luckily all of our equipment wasn't inside it. We left it at a Pep Boys (cause we had a gift certificate there), they fixed it and left it overnight in their parking lot unlocked. Someone tried to hotwire it and was unsuccessful, leaving us with a dead van.
The band was just confirmed for the second date of the Bouncing Souls's Home for the Holidays shows and are working on their new album for Bridge Nine Records.