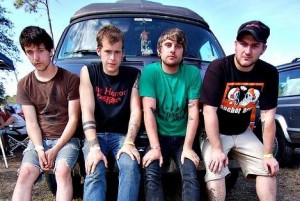 As we at Punknews begin gearing up for the inevitable chaos that is this year's Fest , we have teamed up with the fine people behind this years FESTivities (zing!) to bring you a series of interviews with some of the bands playing this year. Kicking off our series is Gainesville's (by way of New Mexico) own Spanish Gamble. The boys sat down with No Idea's own Tony Weinbender to discuss touring, drinking, cooking and of course, Fest.
So, a few of you used to live in New Mexico and as tales have been told, you came to FEST and decided to move to Gainesville. Can you tell us about how that came about? Colin: Me and Ryan drove out from New Mexico for Fest 4. We both had fake IDs and partied way too much, catching probably less than 12 bands. I was only 16 at the time. But along with the headliners we managed to catch a few Gainesville/Florida classics like Savage Brew, New Mexican Disaster Squad and a badass Sir Prize Fighter house/cabin bbq show. Needless to say, we fell in love with the spirit of that scene of music. The following summer when we had just about had enough of the small town drama/boredom of living in Los Alamos, we started talking about moving and Gainesville was Ryan's first choice. We knew we wanted to get far away and had a goal of starting our own real touring band, so Gainesville seemed like a perfect fit at the time. There was less thought put into the decision than people think, ha ha.
Ryan: I came out here for FEST 3 and was blown away, so the following year I convinced Colin he absolutely needed to come. We had the most epic road trip out and had a great time. I actually missed None More Black that year because I was too high to remove myself from the hotel bed, ha ha. Actually, on the way home was when I wrote the lyrics for, "1-2-3 FEST!," which was the first song we wrote that we kept. We had started playing that year and by summer 2005 I convinced Colin to pack up the van and move out to Gainesville with me to find a new drummer and start playing music out here. We drove 32 hours straight here, strung out on various things to keep us awake.
Many bands who play FEST say that it has helped out their band when they adventure out on tour. Can you give a little more insight into this, and some of your favorite towns to play on tour, and why they rule? Colin: I think that living in Gainesville and being able to house bands and really meet so many people at the Fest has been insanely crucial for us when it comes to touring. So many of the bands and people we know from all over the country we met at the Fest. I mean hell, that's how we know Randy! We've made a lot of awesome connections with people and bands just by meeting them at the Fest, many of which I think are now life long friends. My top ten places to go to on tour in no order would be Boston MA, New Brunswick NJ, Santa Fe NM, Ft. Collins CO, Lansing MI, Houma LA, Portland OR, San Francisco CA, St. Augustine FL, and Seattle WA. Many things make a place memorable on tour: scenery, friends, good shows, good promoters etc. All of these places have some, if not all, of these things for us.
Ryan: When you play, or even attend FEST, everyone is automatically your best friend. I've had a show offered to us before just because I gave someone a beer before. New Mexico and Jersey are always nice to come "home" to; we're always met with open arms there and it's great!
Speaking of tour, it feels like you are hardly ever home. You guys have been true road dogs since your album, It's All Coming Down, came out last spring on Paper + Plastick. What keeps you busy when you are home and restless, missing the road? Colin: We work like dogs when we are home. It tends to be mostly work and band practice when we are in town. Coming home from a long trip is always nice but I think we are all constantly road hungry. It's so great to travel around with your best friends playing music you love, seeing new places and making new friends. Nothing feels better than finally getting on the highway and heading towards that first show.
Ryan: All of us work constantly and with alternating schedules we still manage to practice 3 times a week at minimum, whether it be at night or on my lunch break, since I work 50 feet from our practice space. So that right there takes up most of our time and somehow we manage to book our own tours. There's nothing really we can do to stop ourselves from missing the road, it's all any of us ever want to do, that's just part of really being fully embedded in your band. We don't just want to tour, we NEED to tour.
You recently posted a series of video diaries from your last US tour. There was plenty of championship beverage consumption caught on tape. I know you guys are young bucks, but do you have any hang over secrets you can share with fellow FESTers that might relieve their heads and stomachs this weekend? Colin: Iced coffee and a good breakfast burrito is always good to soak up that extra booze in the belly. I'm also a fan of just taking a shot and drinking a beer to knock the hangover back.
A few FESTs past, you let a bunch of folks camp out in your yard. How many folks camped there? Any good/bad stories from opening up a punk campground? Colin: First year, a lot of people camped in our yard as the offer was put up online. We made a few good friends from that, but there were also a few who I wouldn't invite back. I'd say there were maybe 30 people camping? And definitely a good amount we didn't know. More people showed up as the weekend went on too. There was a bit of craziness, but most of it was incited by us.
Ryan: To be honest, I can't remember anything bad happening, other than all our toilet paper being gone in the first day, which was no big deal - there were plenty of phonebooks!
Spanish Gamble has been known to throw a party or two. Many include some BBQ action. Got some grillin' and chillin' pointers? Colin: Nothing makes a burger better than some New Mexico green chiles. I was also a fan of the booze filled watermelon.
Ryan: Breakfast burritos are easy to make for the masses, and if you want a REAL breakfast burrito with green chile straight from New Mexico, you better become friends with the wild bunch we manage to round up from the "Land of Enchantment" over the years! You better believe I have a 30lb sack coming in this year! Also, do the math, it's usually cheaper by the ounce to buy PBR in 4-pks instead of 12pk, at least at ABC. At Gator Bev, they may have raised the price because that was word on the street not too long ago (probably because of us) but if you buy the half pints of Turkey 101, it's cheaper than a 5th. Party on brosnakes!
What's on the horizon for Spanish Gamble in 2011? Ryan: Good times, naturally! Currently, we are taking the longest break from touring that we have taken since we started, which SUCKS, but we should be in Europe for the first time ever for any of us in April. We have high hopes, so if any of you from overseas are reading this, get ready to party! In the meantime though, we are working on writing new material for a tentative 7" this winter and a split 12", all the while working towards a new full length!