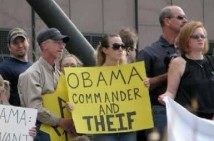 Velvet Underground drummer Maureen Tucker has participated in an interview to discuss her controversial appearance at a local Tea Party event. Tucker complained that:

I'm furious about the way we're being led towards socialism. I have come to believe (not just wonder) that Obama's plan is to destroy America from within.
In the new interview, she is critical of those who judged her for her participation:

No country can provide all things for all citizens. There comes a point where it just isn't possible, and it's proven to be a failure everywhere it's been tried. I am not oblivious to the plight of the poor, but I don't see any reason/sense to the idea that everyone has to have everything, especially when the economy is so bad. I see that philosophy as merely a ploy to control.

Today it was announced that there would be no cost of living increase for Social Security recipients because "there's no inflation." I'd love to know what makes them think that! Where the hell do they shop? Prices have been rising for over a year. Inflation is a natural happening, I know. But why is it that suddenly food prices don't go up two or three or five cents, but instead they're going up 40, 50, 60 cents at a clip? No inflation my ass!

[Democrats say that tea partiers are] all racists, they're all religious nuts, they're all uninformed, they're all stupid, they want no taxes at all and no regulations whatsoever. I'm stunned that so many people who call themselves liberal yet are completely intolerant. I thought liberals loved everyone: the poor, the immigrant, the gays, the handicapped, the minorities, dogs, cats, all eye colors, all hair colors! Peace, love, bull! Curious they have no tolerance whatsoever for anyone who doesn't think exactly as they do. You disagree and you're immediately called a fool, a Nazi, a racist.
Check out the interview here.