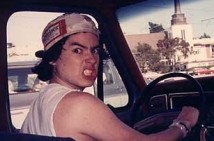 Neither rain, nor snow, nor intense confusion can stop our ongoing series of Fest interviews. Today, No Idea's Chief Primate Overseer, Tony Weinbender, shares some words with Fat Mike (NOFX/Me First and The Gimme Gimmes). As you may have guessed the conversation is heavily Fest centric and avoids all mention of Halo Reach.
So this is Me Fist and the Gimme Gimmes first time playing The Fest. What made you guys decide to come this year?
My friend Floyd bugs me every year about going. I finally gave in.
You are playing with an entire lineup of Fat Wreck bands. Fest has been called a punk rock family reunion. With a large chuck of your Fat family playing, and you being big poppa and all, how are you planning on celebrating with your clan?
Same way I celebrate every night; booze, drugs, and cover songs.
What band from your family do you wish was here to share this upcoming day with you?
This is an event that The Real Mckenzies need to be at. That band is the punkest band on my label. I don't want them actually with me, but the place would be better off with them around.
Are there any non-Fat bands you are going to try to see while you are here in Gainesville?
If I get a chance, I'm really interested in going to Jamaica on the first. That's what I'm doing.
When I spoke with you at Punk Rock Bowling you said it had been a real long time since you personally had played Gainesville. How long ago was that, and what was the show like?
The last time I played Gainesville was 1987 in an apartment. Eric and Erik took acid before the show and we played like shit. I had to drive the van that night with 4 people laughing and yelling till morning. Those weren't the days.
Speaking of Punk Rock Bowling, the Fat team won the damn thing this past year. Congrats on the big win! On your way to the top of the heap, you had to battle the lanes with the Fest team. I remember you rolling up to the lanes claiming Gainesville had brought their, "trick balls and tick beards" to the lanes. With so much underhandedness going down, did your team have anything up your sleeves to tackle this crucial match?
We did have something to help us win, but it wasn't going up our sleeves…