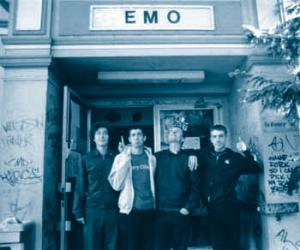 As we approach zero hour for this year's inevitable Fest, Punknews continues our series of Fest focused freewheeling. Today, interviewer Matt Sweeting talks with Twelve Hour Turn regarding their music and decision to play for No Idea's 25th anniversary. Sweeting writes:
Since the band's last show on July 19th, 2002 all of you guys have gone on to do some really amazing things, both musically and otherwise. What's the thing you miss the most about Twelve Hour Turn? Rich: I miss the feelings of intense devotion and family I had for the band. Like a lot of other things in life, your first go at something leaves such a mark on you. This wasn't the first band for any of us, but the first one that put us out there doing the things we dreamed of doing with music - touring, putting out records, doing things with other bands that truly inspired us. It was serious to me. It was what I was living for and I knew that's where I was supposed to be. Dave: I really miss traveling, writing, and seeing the other guys on a daily basis. The time we spent together has really shaped who I am as a human being. John: Along with countless friends and people we met along the way, the most memorable things about Twelve Hour Turn for me were the traveling, adventures, good times, bad times (all laughable now), bands we played with, GAINESVILLE!, and of course our music.
I know the name of the last LP, Perfect Progress, Perfect Destruction, was actually the name of the painting that ended up being the cover… but isn't it eerie how fitting it was, in every sense? Rich: Yeah, I remember laying eyes on it for the first time at Sean's parents' house. He had it in mind for us. The title spoke to what we were singing about and also referred to the band's history and future as well. We knew at that point our days were numbered, but also felt this recording was by far the best thing we had ever done. I couldn't have thought of a more fitting statement for it all. Of course this isn't the first time he had named a record for us. "The Victory of Flight" was named in the same way. And so will be "The Expense of Flight". Dave: I always wanted to believe that our record titles (adopted Sean artwork titles) were about things we observed outside of our own personal worlds. Upon reflection, it is obvious they were not limited to that space. The title is certainly ironic for ourselves, and for the world we live in.
To me as a fan, Sean Mahan's artwork was pretty much a fifth member of the band… his imagery just lent itself to the vibe of the music so well. As you look back on the band's releases, especially the last three, can you imagine any one else doing the art? Rich: No. We actually approached a few different friends whose work we really dug, but they didn't feel right for our first LP. I had met and been working with Sean for a little while at our local health food store "Native Sun", and actually mentioned him to begin with, but we wanted to go with someone we all knew at the time. Finally, after feeling lame about asking friends to do something and then turning them down, I had Sean bring a few pieces over that already existed - learning this was the way to go from then on if ever possible. He brought the front and back to "Victory of Flight". I had seen some work at his place and really dug these. Once everyone saw them, that was it. Dave: No way. His work compliments our music. Without it we would not have been able to create (to me) a meaningful aesthetic. Simply, we would not have been as good without Sean's art. John: Sean Mahan: not only were we blown away by all of his art, but he's just a down to earth, kind person who we can relate to. We had a lot of friends do art for other projects for us, that I still love, but we discovered Sean at a time when we were grasping for something for the "Victory of Flight" record. Not only what he was doing beautiful, but it tied in to where we were calling from. Sean titled all of his paintings, which always seemed to fit perfect for every record… like he had been reading our minds while we were writing those songs. I am glad to see he is forever growing with his art. Still doing great stuff!
One of the most engaging things about Twelve Hour Turn was the idea of where are they going to go next? The last album left us with so many possibilities… where do you think the band would have headed musically if you had continued? Rich: That's a good question. Who knows? It seemed that every time we finished recording we naturally wanted to take things in a different direction without ever really thinking on it. We just wanted to keep it fresh for us. Songs I first wrote for Tubers were songs I was gonna offer to Twelve Hour Turn, so that gives a little indication on my end. I'm sure same goes for Johnny with Old Growth. It seems we were heading towards some kind of more traditional song structure and making things more precise rather than meandering. Dave: I wish we had found that out. The band came very close to relocating to Portland and continuing with a more committed schedule. In the end, I stayed and finished school and John and (a few years later) Matt moved to Oregon. The last release was my favorite and the best songwriting we had ever done. I think the next album could have been better. Maybe there is still one in us. Still, I should not sound as bummed as I do. I feel so incredibly lucky to have had the opportunity to create with those amazing fellas.
At this year's Fest, Var is publicly celebrating 25 years of No Idea being in existence. Where do you see Twelve Hour Turn in that time line? Rich: The middle? I wasn't around for the beginning of No Idea. It made the musical world a lot smaller for me though when I discovered it. The doorway was the Allied comp "Music for the Proletariat" Dave passed on to me in '93 or '94. Spoke and Radon were on it and they were from Florida! There's this label doing things in Gainesville! Four years later I am in a band working with this label. Unreal. I just pulled out No Idea 100 the other day and it brought me back to what a great time for music that was for us. I feel really lucky to have been a part of those times along with all these other excellent bands, a lot of which were local. Dave: Again, as lucky ducks to have been welcomed into the No Idea family. I feel very humbled to be in the company of so many great people and musicians. Stoked.
If you could changed one thing about Jacksonville when you guys were active, what would it have been? Rich: Cut all the sprawl. There were some great neighborhoods, but most of it is a collection of strip malls like any other large Florida city. It seemed difficult to get the word out about shows we did, where these great touring bands would play in a place like this at a time before internet or email or cell phones. Our co-workers would come to be nice but weren't really into it, or friends from Gainesville would come over. We felt really good when we could get a decent Jacksonville group at a Magnifico House show. John: Jacksonville was definitely a driving force for us. A huge, strange, frustrated, yet desolate city. We always expected so much more from that great place, and at times feel we found nothing. Inspired by other neighboring towns and scenes, we tried to make Jacksonville the best it could be. At times it was great, and at times everything we tried to build there would just crumble over and over again. Still, I met some of the best people I've ever met in my life there, and am honored to have been, along with many others, a local musician there. I don't think I would have wanted to have been anywhere else, and I don't think we would have been what we were with out J-ville.
What or who are you looking forward to the most at this year's Fest? Rich: Witches, Landlord, Cassette, Future Virgins, Jumpers, P.S. Eliot, Hidden Spots, old No Idea friends… wish I was seeing True North, I Hate Myself, Strikeforce Diablo, Argentina, Moonraker. Mostly looking forward to just being with Twelve Hour Turn for a week to hang out together again. Dave: No one thing in particular. I really wanna soak it all in. Can't wait to see familiar faces and rock out to some great tunes. It has been too long. John: I think the most exciting thing for me about the Fest this year is playing with Twelve Hour Turn again. Seeing old friends, bands, the No Idea crew. But… I can't wait to be alone. The four of us. First practice. First chords strummed together in eight years. I can't wait for that moment. Oh yeah, and TUBERS… or as they say in Eugene, Oregon: TUBER!
Anything else you would like to add? Rich: Favorite No Idea release--Burnman LP--go brown it now.