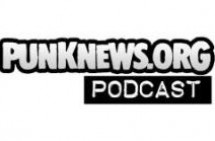 The Canadian presence on the Punknews podcast doubles this week, with managing editor Ben Conoley and news editor Adam White dousing news editor and host Bryne Yancey with thick, maple syrup-like doses of knowledge regarding such topics as Propagandhi's search for a new label, the direction of Converge's new album and whether they're still a good fit on Epitaph, Hellmouth's elaborate and spooky Bible ashes vinyl stunt and much more.
On top of that, we've got music on the show from Fear of Lipstick, Anchors and Golden City.
You can click Read More to stream and/or download the show, or subscribe via RSS or iTunes. Don't forget to give us your feedback in the comments section or via e-mail. And if you'd like to catch up on past episodes, you can do so right here.