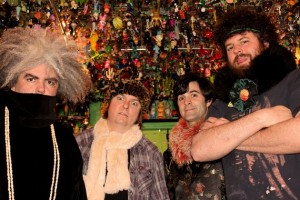 You just can not categorize the Melvins. You can call them metal, but you'd be wrong. You can call them punk, but you'd still be wrong. You can call them rock, but, well, you'd still be wrong. Hell, even if you call them "The Melvins" you'd still be wrong because they've got like 900 different formations of the band as well as alter-egos. Touring incessantly since 1983, and led by Buzz Osbourne the Melvins, have sifted through and even created more genres than you can count. Early in their career, they created a unique creature which had the thick legs of Black Sabbath and Kiss, the broad powerful torso of Led Zeppelin, and the manic face of early punk. After smashing a name for themselves early on, they progessed to more menacing drone sounds on their seminal Bullhead only to record a creepy ambient album Pigs of the Roman Empire, as well as the best Dead Kennedys album not by the Dead Kennedys, Never Breathe What you Can't See with Jello Biafra at the mic. Oh, also, somewhere along the way they sort of created grunge and showed Kurt Cobain how to hold a guitar.
But, nearly three decades in their career, to merely call the Melvins "grunge" would be a severe injustice. Rather, on their newest album, The Bride Screamed Murder, The Melvins flip between crushing riffs, tribal drums, and highly distorted covers of the Who and traditional Irish Jigs. Currently composed of original members Buzz Osborne and Dale Crover, as well as newer members Jared Warren and Coady Willis (also of Big Business), the Melvins continue to defy genre and force their fans to expect the unexpected… or at least to expect to expect the unexpected. Anyways, Punknews interviewer John Gentile recently kicked back with Buzz to chat about the new album and see how the Melvins define themselves.
According to previous interviews, the title The Bride Screamed Murder came from a list. So, my question is, did you attach a specific meaning to the title, or is it random association?
Well, I'm a list maker. I make lists about everything. It drives my wife crazy. Lists about everything! It helps me keep track of things. I have a quick wit, but I'm not very good at remembering things. Every time I see a movie or advertisement that I like, I'll write it down, but I'll only use one out of fifty things. "The Bride Screamed Murder" is from a list from the movie Alice Doesn't Live Here Any More. It was a very insignificant thing from that movie.
As for the meaning… there's none to speak of.
The new album debuted at 200, your highest charting album ever. Does this have any significance for you?
It has no significance.
I think it's fair to say that a lot of Melvins lyrics are open to multiple interpretations. For example, does "Evil New War God" have a specific meaning behind it, or is the song for fans to attach whatever meaning they want to it?
I don't like to be too direct in anything in I'm writing. I don't like to be too direct in song structure, either. I have a very thought out way of doing lyrics. I have a wide variety of influences, none of which is Bob Dylan — I like Bob Dylan, but for me, he's too direct. The hardest thing for me is to figure out a subject matter. Once I figure out the angle it's easy. It could be I'm gonna write a song about space aliens observing a city council meeting…or you could say, "I wanna write a song about a table." Well, let's write a song from the perspective of a mouse running along a table. All the songs have really specific meanings, none of which would be tremendously important in of themselves.
I really like the "My Generation" cover on the new album, because it definitely sounds like the song "My Generation," but to me, it doesn't sound like the Who at all. Why did you guys choose to record this song?
We like it because it's a good song, certainly for me and Dale. The Who do a version on the album The Kids Are Alright. I assumed people would know that, but really, not everyone knew what we were doing. I thought it was common knowledge, but I guess it wasn't.
Are you on a higher music level than most other people?
No, not necessarily…higher than Fallout Boy. We're on a higher level than Fallout Boy.
The whole album feels very cinematic to me. The artwork of your albums are pieces of art in of themselves. Why do you think that Melvins have such a strong connection between the audio and the visual?
Audio is first and foremost — music is the first without question. The visual aspect comes in a distant second. It doesn't mean you do things that don't matter. I always thought the visual side mattered — with our names, the way we sound — to attach a certain visual. We have a broader realm of things that we are doing. I don't wanna be like other bands. I don't want to be a part of something identifiable. If we have cute violence in our imagery or songs, I'm all over it. I want people to have to think.
Certain record labels put out records that look like they would belong on that label. I never wanted to be a part of any scene. I always thought that was what I was doing in the first- something that was my own thing. That was it. We're not afraid to do that. Being a part of a genre or a scene…I've never understood that.
You've stated that you love what you are doing. When I saw you live, you seemed to be intensely focused. So, my question is, although you love what you do, are you having fun at what you do?
Some nights are better than others. A third are really really good. A third are okay. A third are when you can't do anything right. How come some shows turn out that way? Who knows.
When I saw you guys in San Jose in July, my socks were rocked clean off. How would you rank that show?
It was good. But, I'm from a different perspective than you… for example, maybe I'm just getting over a cold. There's a wide variety of reasons of why a show might turn out the way it does. I wouldn't have it any other way. None of our shows are flops. We're a real band. Two of the best drummers out there and one hell of a bass player.
A lot of artists that come from punk and heavy metal backgrounds will play the heavy stuff for like 15 years or so, and then go the acoustic singer songwriter path. But the new album is incredible fierce and energetic. How come you guys never went soft?
We've done a lot of softer stuff. The Bootlicker album is all quiet stuff. I've got it out of my system. A lot of the punk rockers that go the Bob Dylan route. A lot of those guys are just playing dress up. I don't need to hear a bunch of folk stuff redone. I want to hear a new version of things.
According to Pitchfork, the Melvins are a "great, near traditionalist, hard rock band." Do you feel one way or another about that tag?
Near traditionalist, meaning new/old sounding? That tag is wrong. These critics are always trying to label us as something. We've come across that for a lot of career…most of those people will wind up selling canoes. I don't know that they've ever given us a good review, maybe that's all they have to do. They think that we're trying to be cute, but we're not.
You've been in the Melvins the longest and haves seen a great deal of line up changes in the band. Are the other members of the Melvins your instruments or are they actual members
I write the majority of the music. It's not cause I demand it, it's just the way it turns out. I happily give credit where credit is due.
Any last comments?
We play the kind of punk rock you can't buy in a hot topic.