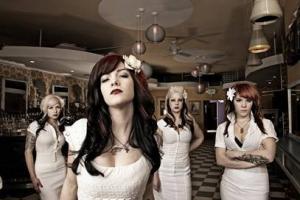 Hellcat Records act Civet had their their van stolen in the early hours of this past Wednesday morning. The suspect led the police on a chase that started in Long Beach and ended in gunfire and a collision with a fire hydrant in the city of Paramount. At one point the vehicle was even seen driving the wrong way on the 91 Freeway. Guitarist Suzi Stefano commented "We are just thankful to have unloaded almost all the equipment 2 days ago. It could have been a lot worse. That was a close call!"
You can check out a video news report on the incident at CBS.
The band recently completed a Canadian Tour with Nashville Pussy that wrapped up last weekend in Denver.