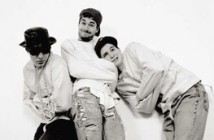 25 years after it was originally released on Licensed to Ill, the Beastie Boys will be revisiting their breakthrough single, "Fight For Your Right" in a short film set to premiere at the Sundance Short Film Festival, which runs from January 20-30 in Park City, Salt Lake City, Ogden and Sundance, Utah. Titled Fight For Your Right Revisited, the film was directed by Adam "MCA" Yauch and will feature Elijah Wood, Danny McBride, Seth Rogen, Will Ferrell, John C. Reilly and Jack Black.
The original song was produced by Rick Rubin and featured guitarist Kerry King from Slayer. You can find more details on the film via Sundance.
Check out the original video for "Fight For Your Right" via hereVevo.