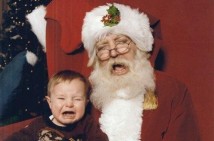 Ah, it's that time of year again. Mass commercialism in the form of thoughtless gifts rests under the tree, holiday music dominates terrestrial radio, and Punknews.org asks every industry person under the sun for a list of their favorite records. You might remember this from last year, but if not, the idea is fairly self-explanatory. For the next few weeks, we'll be posting at least three lists each day from people in bands, at labels or at any other industry job for you to gawk at, debate about and just generally absorb.
To kick things off, we've got lists from Fake Problems frontman Chris Farren, Cam Taylor of Senders and No Idea Records, and William of Evil Weevil Records.
Chris Farren of Fake Problems
10. Mavis Staples - You Are Not Alone
9. The National - High Violet
8. Tim Kasher - The Game of Monogamy
7. Kanye West - My Beautiful Dark Twisted Fantasy
6. Wavves - King of the Beach
5. Look Mexico - To Bed To Battle
4. Surfer Blood - Astro Coast
3. Robyn - Body Talk
2. Gaslight Anthem - American Slang
1. Vampire Weekend - Contra
Cam Taylor of Senders
1. Young Livers - "Of Misery and Toil"
2. Maserati - "Pyramid of the Sun"
3. Little League - "Frames"
4. Superchunk - "Majesty Shredding"
5. Shores - "Coup de Grace"
6. GRIDS - "White Walls"
7. Masshysteri - "S/T"
8. Frodus - "Soundlab 1"
9. Autolux - "Transit Transit"
10. 1994! - "FCKYRHED"
11. Bridge & Tunnel - "Indoor Voices"
12. Screaming Females - "Castle Talk"
13. Double Negative - "Daydreamnation"
14. Iron Chic - "Not Like This"
15. So Pastel - "Tremulous Quavers"
Bill of Evil Weevil Records
10) Bruce Springsteen- The Promise
9) Everyone Everywhere- Everyone Everywhere
8) None More Black- Icons
7) The Strange Boys- Be Brave
6) Wavves- King Of The Beach
5) No Bunny- First Blood
4) Best Coast- Crazy For You
3) The Dopamines- Expect The Worst
2) Hunx and His Punx- Gay Singles
1) Iron Chic- Not Like This