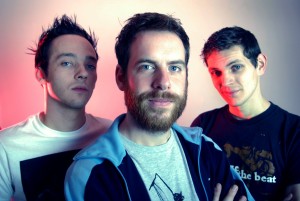 There are many words such as "heartfelt," "political" or "sincere" that are synonymous with Dutch punks, Antillectual, but only one that truly describes the nature of the band, and that's "driven." Since 2004, the band has either been on the road, planning the next tour, recording a record or writing the next one. Now, after three full-lengths, two 7"s, countless touring stints around Europe and even three US tours, the band gives us rt From Scratch!s biggest sounding, catchiest and most confrontational album yet. Punknews' Frank Corva recently caught up with the band, which collectively answered the following questions, to gain some insight as to what Antillectual is all about, in their own words.
Can you please provide us with a brief history of Antillectual?
Hi, we're Antillectual, a three-piece punk rock band from The Netherlands. We've been playing [music] for about 10 years now. We started out as skate buddies trying to play the music we liked in our favorite skate videos. We've had a lot of line up changes. At this moment, though, Antillectual is Willem, vocals and guitar, Riekus, drums and vocals, and Tom, bass and vocals.
We've released three full length records and two 7"s so far, as well as have [contributed tracks to] numerous international compilations such as the Carry The Torch Kid Dynamite tribute. Our new album Start From Scratch! will be released by Square of Opposition Records in December 2010, in the USA. Our first tour ever was in the USA in 2004 and we've toured Europe, the UK and the USA frequently after that. We have no intention whatsoever to stop touring our asses off.
You guys always seem to be either on the road or working on a new record. How do you stay afloat financially in between tours?
It's true that we spend quite some time on our band, but that's really the only way to go if you want to make the best of it. And obviously this band isn't making a single dollar or Euro. However, we do find time to work odd jobs when we're not on the road. Willem takes care of elderly people, does small jobs for a van rental company and teaches guitar lessons. Riekus co-owns a software business with six friends and receives an artist subsidy that supports him to play music. Tom works at a supermarket. It's pretty tough making ends meet, but generally life on the road doesn't cost much, so we manage to stay alive and pay our bills. The band has been to the States a few times now. Most bands will say that touring Europe as a DIY punk band is way better than the States due to the more passionate nature of the fans as well as the accommodations. Do you find this to be true? Regardless, what were some of the better experiences you had in the States?
I'm not sure I agree on the difference in [the] passionate nature of [the] fans. Whenever we come over to the States we feel very welcome and appreciated. Not to say that Europeans are less appreciative, but flying out to the other side of the globe and receiving such a warm welcome where ever we play is one of the reasons we keep coming back to the States.
As for accommodations, true! Europe (besides the UK) has a pretty long lasting tradition of youth centres, smaller bars and (former) squats putting up shows. People generally know what a touring band needs - plenty food, a nice place to sleep and some fine local brews.
The way we see it, touring the States is ultimately more of an adventure, partially because we rely on other bands' resources over there as opposed to having our own van and gear over here and partially because the underground scene in the US is very DIY. There is some sort of charm to the challenge of touring the States - finding a meal, a drink and a place to stay. When it all works out and the shows are cool the payback is enormous.
I'd say that Fest 7 was easily the best thing that ever happened to us in the States. Just being there and blending in was awesome enough in itself, actually playing a show in The Venue on a great slot was mind blowing! On the downside, after Fest 7, we toured back up to New York in about a week, and at some times it was pretty tough to appreciate some less crowded (mildly put) shows after such an experience. It's all [part of] the game.
How did you get Chris Hannah from Propagandhi to do vocals on "Cut The Ground From Under Our Feet"?
When we were writing our new record, we had this idea in the back of our minds that we would like to have some guest singers, as we did on Silencing Civilization. We've always been big fans of Propagandhi and after playing a show with them, we just figured we should take a shot and ask Chris if he would be up for doing guest vocals. We've been listening to and inspired by Propagandhi since How To Clean Everything and they stay amazing with every new release, both musically and lyrically. [The band's] live shows is incredible and a dream came true when we got the chance to play with them. That's when we met the guys in person and appeared to be really nice people. Before recording our album, we emailed Chris asking him if he wanted to contribute some guest vocals for this album. We knew he had a home studio so it wouldn't be [much] of [a] hassle for him. He warned us to be disappointed, though. We recorded the song and Willem sang the part Chris was supposed to do. He dubbed those vocals, recorded that and sent us the sound file. Easy as that. So we never up met for it, but he did it out of his house. Otherwise it wouldn't have been possible.
Antillectual is known for being very expressive when it comes to its political views. Song titles like "America's Worst Role Model," "Chinese Takeover" and "The New Jew" seem to carry some heavy connotative weight. What are some of themes on not only these songs, but on the record at large?
Our new album is not a concept album or something like that, but you could say that most of the songs are related to the crises we have been facing in the last years. Both the financial crisis, a moral crisis related to that and globalization resulting in the shifting of world powers. All these crises or changes form a unique opportunity to re-think the way we are dealing with things and decide to start doing it differently. Therefore, the title of the album is Start From Scratch! , a quote from the first song on the album.
There's a song called "Some Of My Best Friends Are Meat Eaters" on the new record. Were you guys at all snobbish in your earlier years when it came to being vegetarians or having other particular what might be considered "PC" views that other people didn't agree with?
I remember becoming a vegetarian at age 14, and yes, I was pretty snobbish about it for a while. I guess that's what all fresh vegetarians do when they're insecure about their new found beliefs. At some point I realized it doesn't make sense to be preachy about it. At the end of the day, it's a personal decision and everyone should decide for themselves. The same goes for Straight Edge, and basically any kind of personal moral choice. Actually, that's exactly what this song is about - making your own personal decisions and not feeling like you're better than anyone else, even if vegetarianism or veganism is a lifestyle worth promoting.
How does it feel getting older in the scene? Do you usually play to an audience that's younger than the bands' members in Europe? If so, what do you think it is about your music that resonates with them?
I have never thought about this to be honest. I never thought I was "young" or anything when I started to listen to punk rock nor did I have an opinion about older people in the scene. I think as long as you have friends of your own age that get older with you in the scene there doesn't have to be a problem. That's slightly different when looking at the band / audience relation. Even though we don't have a really young audience, I think we appeal mostly to people that started to listen to skate punk in the nineties, or got interested in emo around 2000. And now with the whole ".org" wave people tend to like us, but those are not really the young kids, I think. If young kids listen to us I think that's great. The more people, the better.
You guys have opened for some pretty big bands over in Europe? What has playing to such large audiences been like?
Yeah, I guess we played with most of the bands that we listen to ourselves, which is really awesome. Both meeting the people behind the band and playing in front of their audience is why we love doing that. It is very impressive most of the time and very fun, as well. We love to play small squats, basements shows and whatever, but to reach out to that different audience you described above, it's really fun to support bigger or other bands that draw a bigger or different crowd than we do. And the best thing is when people that didn't come to see us, enjoy the music, buy some stuff and come back the next time we come over.
Anything you'd like to add about the new record or the upcoming year for Antillectual?
About the album, please download our music here and let us know what you think. If you want to order an LP, get in touch with Square Of Opposition Records or look us up. Our further plans involve touring, touring and touring. Hopefully we can go visit places we've never been [to] before, play venues and festivals we haven't played before and go back to the cool places in Holland, Europe and the USA [we've been to]. Concrete plans are a France tour in November, playing shows in the Benelux in December, Germany and the UK in January and [then] go back to France in February. After that, we want (amongst other things) to go to Russia for the first time, and go back to the USA. A lot of plans, as you can tell…