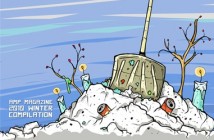 Mustarg Plug has issued a Christmas song titled "Real, True, Santa." The song is a reworked version of "Rat Bastard" and can be downloaded here
Meanwhile Los Angeles-based pop punk act Closeouts (featuring ex-members of Torque Records Tiefighter) have released a free holiday song called "Another Christmas in the Trenches." The song can be found on the band's Bandcamp page.
Available for streaming is Tumbledown's "Run Run Rudolph" which is appearing on the No Sleep Till Christmas compilation. You can listen to that song on the band's website. You can also grab a New Year's edition of "Great Big World" off their sophomore album, Empty Bottle by heading here.
AMP Magazine is offering up a Christmas sampler featuring Banner Pilot, The Brokedowns, Iron Chic, One Win One Choice and more. Its available from the magazine's Facebook page.
Also joining the holiday fun is Sufjan Stevens, who recorded a song that can be heard along with one from The National right here.
Finaly, Pitchfork has compiled a very long list of holiday music that you can read over on their site.