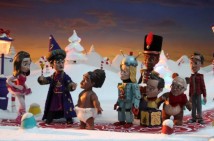 The best non-alcoholic Christmas present you'll receive this year rolls on as we have best-of-2010 lists from Keith Yosco of The Holy Mess, O Pioneers!!! mastermind Eric Solomon and It's Alive Records proprietor Adam, whose list surprisingly contains quite a few pop-punk releases.
Click below to read the lists.
Dirty Tactics: It is What It is…
The Menzingers: Chamberlain Waits
No Age: Everything In Between
None More Black: Icons
Fucked Up: Couple Tracks
Titus Andronicus: The Monitor
Restorations: Frankford 7"
Kanye West: My Beautiful, Dark, Twisted, Fantasy
Sainte Catherines: Fireworks
I Felt like 2010 was a fantastic year for music. All of my friends and peers going outside of their realms and recreating themselves over and over again. Every new record made me rethink punk music, and the how it redefines it's self. Here is my list, not in any particular order, just records i like:
Ted Leo and the Pharmacists-"The Brutalist Bricks"
Iron Chic-"Not Like This"
Hostage Calm-"Self Titled LP"
Rvivr-"LP"
TigersJaw-"Two Worlds"
senders-"Recovery 7""
Junior Battles-"Self Titled 7""
Bomb The Music Industry-"Adults"
The Arrivals-"Volatile Molotov"
Laura Stevenson and the Cans-"A Record"
Stuff i just found out about this year:
1994!-"thank you arms and fingers"
Silkworm-"Italian Platinum"
Kevin Smith-"smodcast" and "Hollywood Babbleon"
Hard Girls-"Hello"
Stuff i'm looking forward to:
Small Brown Bike Full Length
Dante 3000-"i quit doing podcasts, here is a record"
New Bruises-"Dad Jams"
Devout-TBA LP
Junior Battles Full Length
Bomb The Music Industry Full Length
O Pioneers!!! Full Length (let's hope i'm not in it!)
Adam (It's Alive Records)
Be My Doppelganger "No Composure"
The Brokedowns "Species Bender"
The Crumbs "Gator Kicks"
The Dopamines "Expect The Worst"
Fear Of Lipstick s/t
The Manges "Bad Juju"
Off With Their Heads "In Desolation"
Sass Dragons "New Kids On The Bong"
Varsity Weirdos "Can't Go Home"
The White Wires "WWII"