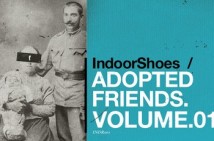 St. Catharines, Ontario based record label IndoorShoes is launching this week with a two day event at the city's historic Mansion House venue. Monday, December 27th wll feature Waterbodies, Elk, Hunters & Anglers, Teenage Kicks and Mark Vida. Tuesday, the 28th will feature Howler, Northern Primitive, the last inLimbo show ever, Beautiful Women of Belmez and Knife The Wolf.
Attendees will receive a free copy of the label's new compilation Adopted Friends. Volume 01, which is streaming now at Bandcamp. Along with many of the above mentioned bands it features tracks from Lemuria, Orphan Choir, and others.
IndoorShoes next release will be a 7" from Elk titled Balm Beach. Look for it in February.