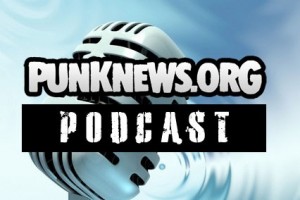 It might be the slowest news week of the year, but not even a flurry of inactivity in the world of Punknews can deter your trusty editors from unplugging their mics and shutting up for the sake of everyone's sanity. No, sir! This week, news editor Bryne Yancey is joined on the roundtable by managing editor Adam White and social media editor Justin August to discuss Paramore's lineup changes, the upcoming LP from Rise Against and the band's relevance in the scene, and in what has to be a Punknews Podcast first, we break the fourth wall and talk a bit about the ethos of year-end lists and the sometimes puzzling reactions they provoke, hopefully in a manner that isn't too ham-handed.
On top of all that, we bring you new tunes from Dead to Me, Stay Ahead of the Weather and Atlas.
You can click Read More to stream and/or download the show, or subscribe via RSS or iTunes. Don't forget to give us your feedback in the comments section or via e-mail. If you want to relive the glory of our previous intellectual conquests or just subject co-workers to more inane Punknews musings, past episodes are right here.