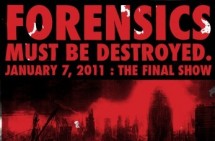 Starting the year off with a bang, 2011 has already witnessed its first musical casualty as Magic Bullet Records' FORENSICS have decided to call it a day. Frontman/label guru/provocateur Brent Eyestone had this to say:
I started this band in 2003 for no other reason but to jam with really good dudes and put a 3″ CD in an evidence container. It obviously went on much longer than that and took me to many places and introduced me to many more great people than I ever imagined possible. I'm always going to be thankful for that.

Yet at the end of 2010, an opportunity came along that was entirely good to pass up. As such, 3/4 of FORENSICS' current lineup are moving on to a new, exciting endeavor that will be reuniting us with a very familiar face/old friend… as well as an additional musician/vocalist that I've held in the absolute highest regard for the last 17 years and counting. There will be much more information available in the coming weeks concerning our new band. In the meantime, we're going to enjoy this final week as FORENSICS and cap it with a very loud and festive coffin nail come Friday at Empire.
Unlike many recent "break-ups" there is currently no available information on how long the hiatus is going to last, or when tickets will be available for the reunion tour.