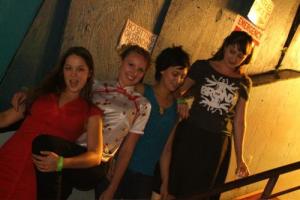 Hailing from Oakland, CA, The Hot Toddies are four ladies who know how to have fun and drink. Their songwriting is a result of sunshine and booze with the aid of an acoustic guitar. Their music has a high level of fun and is often sexual in nature with songs about finding love online, "HTML", missing that special someone while in another city, "Seattle" (rhymes with straddle, paddle,…etc), making a sandwich with your musical crush, "Matt Skiba Sandwich" and hanging out at the beach, "Only With You". Hot Toddies members Sylvia Hurtado and Erin Skidmore chatted it up with Punknews interview contributor Adam Sever as they discussed their latest release for Asian Man Records, the sexual undertones of their music, and pre-show drinking. The Hot Toddies have a few shows lined up this January in San Jose, Monterey and San Francisco, so check them out if your in the area.
Your previous album, Smell the Mitten was mostly recorded at your friend and engineer's house with the vocals recorded in a converted closet. What kind of set up did you record Get Your Heart On in? Sylvia Hurtado: Our recording set-up was a little different for Get Your Heart On compared to the first album, but we still stuck with a very DIY process. We asked our good friend Mike Fajen to record us and he worked with us for almost a year to get the album just the way we wanted it. It was important to us to take our time with the song writing process and make sure each song felt complete before we tackled recording it. The album was recorded in two parts starting with the first five songs we finished writing. Sylvia's drum tracks were recorded onto tape with Mike's 8-track reel to reel in a friend's garage while everything else was recorded digitally in Mike & Sylvia's loft. Even though the whole process took a little longer than expected, we are all really happy with the final results and glad we were able to work at our own pace. Sometimes it was hard coordinating everyone's schedules, but Mike was very, very, very patient with us. We can't wait to record the next one!
Did you accomplish everything that you wanted to with Get Your Heart On? Hurtado: This album was so much fun to write and record! We feel like it's a good example of the direction we'd like to take our music and we're excited to share it with everyone. It's just a taste of what is to come.
You can definitely tell that you tried experimenting with different sounds on Get Your Heart On, as a band are you constantly trying new things and what musical avenues are you eager to travel down? Hurtado: Our band is influenced by so many types of music. It was fun embracing different sounds and styles while writing all the songs and we're sure to continue challenging ourselves and our fans with new stuff we come up with. It's a great way to keep our sound fresh!
Erin Skidmore: I love experimenting for sure, and I just got an accordion, a ukulele, and a stylophone - hoping to work those into some future songs!
Many people are uncomfortable talking about sex and many of your songs deal with things sexual in nature. How do you go about writing songs like that and are there any topics that you shy away from writing about? Hurtado: It's easy to write about what we know. There aren't a lot of subjects we shy away from. There is definitely more to us than sex and booze, but both make for pretty stimulating convos on really long van rides.
Some people might blush when hearing songs like "Seattle" and "HTML" "Slow Cookin'". Do you think it's important to have a sense of humor to listen to you music? Hurtado: The Hot Toddies are all about having fun - when it comes to writing certain lyrics, we never like to take ourselves too seriously. Listeners with a sense of humor will probably enjoy themselves a bit more while listening to our music compared to those who may have large sticks up their asses, but we welcome everyone to give us a try, at least once.
You had a hidden track on Smell the Mitten called "Suck My Balls" Why no follow up hidden track on Get Your Heart On? Skidmore: I guess we didn't have just the right thing for it… maybe on the next one!
What prompted you into doing the song "Ordinateur Ordinaire" in half English/half French? Skidmore: A friend of mine was visiting from Paris when we started writing the song so we thought it would be fun to get his help with some French lyrics! Also I lived in France for a short time so I wanted to represent a little that part of me.
Was the song, "Keep On Runnin' (The Vampire Song)" from Get Your Heart On at all influenced by the Twilight books and movies? Skidmore: Yeah the lyrics were a bit inspired by the vampire obsession going around. None of us had seen the movies but we knew the general idea and thought it seemed awfully cheesy. Seemed like it would be more fun if the girl was the dangerous vampire one.
The Punknews comment sections are known for their inside joke about lame bands and sandwiches, and on Get Your Heart On you have a song called "Matt Skiba Sandwhich". What are the ingredients to a Matt Skiba Sandwich? Skidmore: The main ingredient would have to be Matt Skiba of course. Then some mayonnaise and us four Hot Toddies.
The band is named after an alcoholic drink and you are known for your love of the hard stuff, how many pre-show drinks are consumed and what are you drinking? Hurtado: That usually depends on the number of drink tickets we're given and how much time we have before a set - 2 to 4 drinks each is usually pretty average. We usually stick to Jameson or vodka (because sometimes we need something a bit more refreshing than whiskey).
Skidmore: Agreed, we love whiskey the most, but sometimes vodka can just be nice for a change. One day in the van someone said that it sounded, "so refreshing!" Which is when we realized we might have a minor booze obsession…
You've mentioned before that the key to writing your songs involves sunshine, booze and an acoustic guitar. Do you have a certain drink that puts you into the songwriting mood? Hurtado: Some of our best ideas come after a few bottles of wine or whiskey. Even if it's not our intention, a few glasses of Jameson just brings out our songwriting moods- It's hard not feeling happy and sing-songy!
Besides the month long tour last summer and the UK tour, you've done a lot of small west coast tours and weekend tours. Are their any obligations keeping you from touring farther destinations for longer times? Skidmore: There's a pesky thing called money that always seems to get in the way of extended tours. Our jobs have been pretty flexible with our schedules, actually, but not getting paid for a month can be pretty rough.
How does playing in the Hot Toddies compete with your day jobs? Skidmore: I wouldn't say it competes really. The Hot Toddies is a night job and doesn't usually conflict with the ol' day job. We probably get less sleep and more hangovers than some of our co-workers though!
You've mentioned that Sylvia is the slugger of the group, what titles do the other members of the Hot Toddies carry? Skidmore: Uhh I don't know about band titles but we did decide which Spice Girl we could each be. I would be Ginger, Heidi is Baby Spice, Jessica is Sporty, and Sylvia is Scary Spice! Don't have a Posh Spice in the Toddies cause she was kind of bitchy.
You've worked with Mike Park and Asian Man Records for both of your releases. What's it like working with Mike and his label? Skidmore: We love Mike and Skylar and working with Asian Man. It's really more like hanging with our friends than a business arrangement and we appreciate all the support they've given us!
The Hot Toddies was based on having fun. Two albums and an EP in, has the fun waned at all or is it more fun now? Skidmore: Oh the fun never ends with these girls! No two tours are ever the same so there are always new adventures to be had. We're hoping to do another EP this spring so look out for that in another few months.