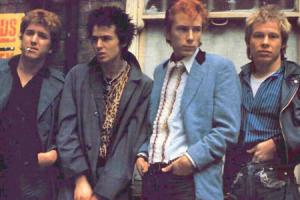 In a recent interview with Stereogum, John Lydon spoke about the new material expected from Public Image Limited in 2011 and hinted that activity from Sex Pistols could also be on the horizon:
"Because I've been able to get P.I.L. back together -- and because I've really been in a songwriting mode -- I can now look back on the Pistols and imagine writing with them, too. I wouldn't have been able to think about that if I hadn't gotten the P.I.L. thing going again. For me, there wouldn't be a P.I.L. if it weren't for them lads in the Pistols, so I feel responsive to their needs. If they want me to go out on tour with them I'm happy to oblige … until three weeks later when I'm not. (Laughs) That's how it is. You forget the wars and the personal hates over time, until something happens … like a tour … and you remember all over again. You know, I don't make friends easy, but once I do befriend someone my feelings are usually set in stone. You have to be a really bad bastard to make me change my views on you. And even bad bastards like me can be forgiven at times."
Although Sex Pistols broke up in 1978, the band has reunited several times since then, touring for six months in 1996 and also playing shows in 2002, 2003, 2007 and 2008.