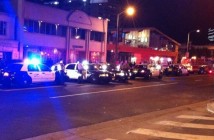 Violence broke out outside the Key Club in West Hollywood, CA last night, when sheriff's deputies responded to a fight which escalated into some of the concertgoers hurling bottles and rocks at the police. The incident occurred at around 10:30 PM local time, when according to reports, bouncers at the club got into it with some of the patrons, which prompted the call to the police. One man was injured transported to a local hospital. The legendary venue was hosting a concert by TSOL and Youth Brigade.
Later in the evening, police had shut down Sunset Boulevard between San Vicente Boulevard and Doheny Drive and had shut down other clubs in the area, hoping to encourage patrons to leave. A full report is here.
Update: According to this report, police began firing rubber bullets, bean bags and mace toward the crowd exiting the 450-capacity venue for allegedly not moving quickly enough. Conflicting reports suggest that the patrons were throwing bottles and rocks in response to the use of force by the police officers.