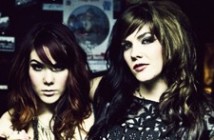 Hellcat Records' Civet have announced their next album, Love & War to be released on February 22, 2011. Vocalist Liza Graves commented:

Recording the new record was very liberating; we knew what we wanted and went for it! Our choruses are bigger and badder than the last record, coupled with blazing guitar solos & raw vocals everyone has come to love; that combination of Motörhead grit and '77 raw power. There are various influences that can be heard on all the songs, so the whole record doesn't reflect one particular era or genre. We weren't afraid to pull from all scopes of the musical spectrum when writing this record.
The band had an dramatic November 2010 with both the loss of their rhythm section and their van becoming the catalyst for a high speed chase through California.
Check out a song from the album via SoundCloud.