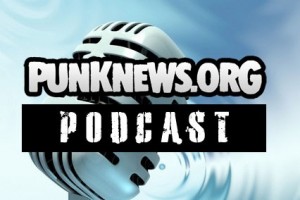 Looking for something to play on the ol' headphones while you dig out from the storm? Look no further than the warming glow of the Punknews Podcast. This week on the roundtable, managing editor Adam White is joined by videographer Chris Moran and staff reviewer Greg Simpson to chat about the continuing Paramore drama, HorrorPops' Patricia Day suing Mattel over a Barbie doll, John Lydon hinting at another Sex Pistols reunion, Slapstick's reunion for Asian Man's big shindig, violence outside a TSOL / Youth Brigade gig, and the 2010 Punknews Readers' List
As if that weren't enough, for the first time ever we opened up our music to be selected by some of our best and brightest staff reviewers and interviewers, who hand-picked tunes by Red City Radio and the Fucking Cops. We also bring you an interview with Red City Radio.
You can click Read More to stream and/or download the show, or subscribe via RSS or iTunes. Don't forget to give us your feedback in the comments section or via e-mail. If you want to relive the glory of our previous intellectual conquests or just subject co-workers to more inane Punknews musings, past episodes are right here.