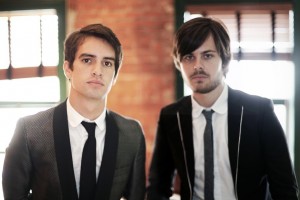 Panic at the Disco have unveiled a title and release date for their next album, their first since 2008's Pretty. Odd.. The record is titled Vices & Virtues and is due out March 29, 2011 via Fueled By Ramen.
The album's first single, entitled "The Ballad of Mona Lisa," will be available digitally on February 1st. The same day, the band is promising new music with a live performance at New York City's Bowery Ballroom. The band recently shot a music video for the single, "The Ballad of Mona Lisa" in Los Angeles with director Shane Drake, which will be released shortly. Drake previously directed the group's music videos for "I Write Sins Not Tragedies" and "Nine In The Afternoon".
The album was produced by Butch Walker (Weezer, Pink) and John Feldmann (Neon Trees, The Used) and is their first new release in three years, as well as their debut outing as a duo.