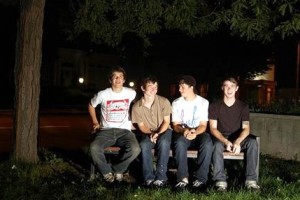 Kingston, PA's Title Fight have joined Side One Dummy Records after releasing EPs on Run For Cover Records and FlightPlan. The band's debut album was produced by Walter Schreifels (Gorilla Biscuits, Rival Schools, Quicksand) and Engineered by Will Yip at Studio 4 in Conshohocken, PA. The quartet tracked the album in two weeks in December, 2010.
The band has been touring the U.S., Europe and Japan for the past 2 years in support of bands like H2O, Bayside, New Found Glory, Four Year Strong and Set Your Goals. Their current EPThe Last Thing You Forget [7 inch] was released in 2009. Their first EP Kingston [7 inch] was released in 2008.
The new album is yet to be titled and is still in its final stage of production. The band is also planning their first headlining tour.