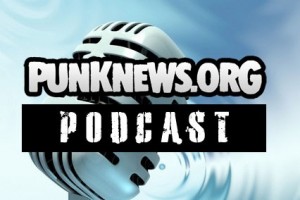 Looking for something to help pass the hours while you board up the house for the oncoming ark flood? Well, boy are you in luck (well, except for the whole "ark flood" bit), because we have a brand new episode of the Punknews Podcast. This week interviews editor Rich Verducci hosts a roundtable featuring managing editor Adam White and news editor/Orlando Magic forward Bryne Yancey, to talk about Social Distortion's stream based discounts, Much Music's choice to put Damian Abraham at the helm of the recently resurected The Wedge, Mighty Mighty Bosstones' frontman, Dicky Barrett, and his run in with the man and much more.
We also feature music from Only Thieves, Defiance, Ohio and Young Widows. Forcing more into your already crammed gills, we're also proud to feature the latest effort by copy editor Jesse Raub, titled "Wizard's Beard." And with a name like that, you know it's amazing.
You can click Read More to stream and/or download the show, or subscribe via RSS or iTunes. Always tell us what you think in the comments section or via e-mail. If the floods last longer than expected, you can pass the time with all of our previous (amazing) episodes right here.