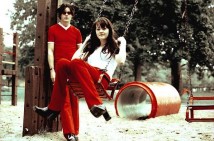 After more than a decade together and the past few years on hiatus, The White Stripes have announced that they are splitting up. Both Meg and Jack White produced a joint statement explaining the decision:

The band has officially ended and will make no further new recordings or perform live. The reason is not due to artistic differences or lack of wanting to continue, nor any health issues as both Meg and Jack are feeling fine and in good health.

It is for a myriad of reasons, but mostly to preserve What is beautiful and special about the band and have it stay that way. Both Meg and Jack hope this decision isn't met with sorrow by their fans but that it is seen as a positive move done out of respect for the art and music that the band has created. It is also done with the utmost respect to those fans who've shared in those creations, with their feelings considered greatly.
The band last released Icky Thump on 2007. Later that year, they went on an indefinite hiatus due to acute anxiety suffered by Meg White.