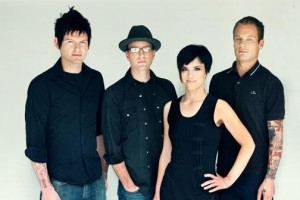 Though occasionally overlooked by the Punknews crowd The Action Design have been hitting the pavement hard. Just last year TAD have toured with punk heavyweights Bad Religion and Social Distortion. Vocalist Emily Whitehurst spoke with Punknews' interviewer Justin Dickman about their 2011 plans, live show and original merchandise not seen anywhere else.
First off, did you get anything good for Christmas?
I got some great things! New pajamas, gourmet coffee beans, some bakeware. It was a coffee-themed Christmas which is just fine with me!
What does 2011 hold for The Action Design? Any plans for a new record or a new tour?
We are not exactly sure what's happening this year. We've recently decided that we're all interested in some different musical outlets and that, for the present, The Action Design is not going to be a priority. We have not broken up because we all still love each other and really enjoy playing music together - we've just acknowledged that we could all use a little shift in creativity. We're each currently working on other projects to fulfill that.
Over the summer the band released it's first vinyl 7"[Sold out]. Was that something the band had always wanted to do?
Most definitely! We were all really excited about releasing the 7" and hopefully we'll release more at some point.
Do you collect vinyl?
Yes! I've got a variety of old records, ranging from Missing Persons to Spanish piano music to early Beatles to children's songs in French.
Just this year you opened for some punk legends (Bad Religion, Social Distortion). How are the crowds different when opening for these bands compared to headlining shows?
There are many natural differences in crowds depending on size, although even the crowds for the two bands were different from each other. Social D's crowd was very attentive, and way more interested in listening to us than I thought they'd be! They were very polite and gave us lots of applause and praise. Bad Religion's crowd was a little more how you'd imagine a standard punk rock crowd to be. They accepted and appreciated us as well, but there were a few token dudes in front who kept spouting off how much we sucked and to get off the stage. Eh, what can ya do?
What are your shows like? Unfortunately, I've only been lucky to see your band back in 2008 playing to a very dismal Warped Tour crowd.
Our shows are the most fun part of our day, and for us it's all about releasing energy and receiving some back from the crowd. Sometimes if the crowd is, as you say, "dismal," it can be really tough to get any energy going, but for the most part it's always fun and easy to lose ourselves in performing music.
You were also playing the Synthesizer. Did you have to learn how to play or did you already know?
I still don't really know how to play!! Anyone can press the keys. It's just a matter of remembering which keys to play and when.
Do you play any other instruments?
Not officially. But in a new song, I do get to play a little guitar.
What is it with scissors? They've graced the artwork for Tsunami Bomb and you even have an Action Design song called "The Scissor Game."
Scissors are a deadly weapon masquerading as a harmless household object. And they even come in kids size.
You're a cofounder of Loud and Clear Printing. What made you decide to start that business?
I've always been involved in designing our merch, so it seemed a logical step to have the ability to print it myself as well.
Your band certainly have some merch, which you make yourself, I've never seen any other band do before (calendars, matchbox magnets, coffee sleeves). What was the inspiration for those items?
I really enjoy making things. I also enjoy when bands sell merch that's out of the ordinary. I'm still trying to come up with more creative ways to deliver interesting and different products to fans.
What would it take for Tsunami Bomb to reunite again?
We reunited once for one show a few years ago, and that was a benefit to help raise money for a friend of ours who had brain cancer (who is doing great, by the way!). We're all hoping that doesn't happen again.
I know it been almost two years now, but how was the reunion/benefit show?
It was both fun and bizarre. It was very much like taking a step back in time, except that there were more recognizable faces in the crowd than ever before since people had come from far corners of the earth. That was amazing.