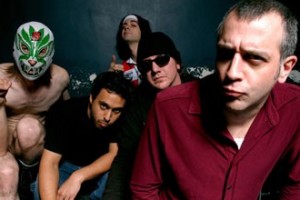 The Dwarves have announced that their new album, The Dwarves are Born Again, will be released on May 10. The band says

That's right folks, the Dwarves magnum opus is done and set to drop May 10, 2011 on vinyl and cd, both including a free dvd! 25 years in the making the Dwarves Are Born Again features heroes from throughout the Dwarves saga. Blag the Ripper, HeWhoCanNotBeNamed, Rex Everything, the Fresh Prince of Darkness and a cast of thousands including Vadge Moore and Sgt. Saltpeter from the notorious Blood, Guts and Pussy record return to crush the ears of a desperate public.
You can hear two new songs from the band over at their website.