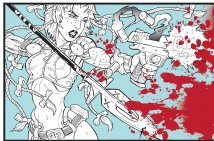 Rob Huddleston (Foundation, Inquisition, Ann Beretta) has informed us of an upcoming comic in the works featuring a character titled after his former band, Ann Beretta, with fellow artist Jeff Eden. The concept has been entered into a contest sponsored by icons Stan Lee and Todd McFarlane, Create a superhero character for the Stan Lee Foundation. Huddleston commented about the concept:

In 1996 when we came up with the name Ann Beretta for the band, we thought then that there was potential for turning the band name into some sort of character - either a comic or possibly a toy,etc…I'm not sure if it's where we're going to end up once the pages start coming together or not but I doubt it will be far off. The idea is to keep it dirty, gritty, dark and full of sex and violence.
If you like the idea and concept art, feel free to vote for the comic here.