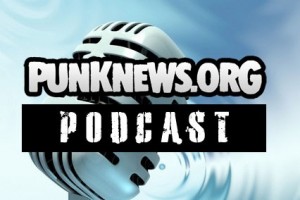 Welcome to a very special post-Super Bowl edition of the Punknews Podcast. With the Packers safely atop the NFL heap, Interviews Editor Rich Verducci returns to quarterback this week's starting team through the complex west coast offense of news, assisted by his co-captains (in no particular order) Managing Editor Adam White and News Editor Ben Conoley. The team tackle such all-star issues as The White Stripes break up, the return of Beavis & Butt-head, a new compilation featuring monsters of the midway, and much, much more!
This week's show also features a special team of songs from Direct Hit!, The Reaganomics and the return of "Broadway" Jesse Raub, in a new "Wizard Beard."
You can click Read More to stream and/or download the big show, or subscribe via RSS or iTunes. You can always armchair quarterback in the comments section or via e-mail. Instant replays of previous shows are available right here. TOUCHBACK!
NOTICE: We've changed our feed address. Update your subscription to point to http://feeds.feedburner.com/punknewspodcast. If you're using iTunes it should transfer over automatically in a little while.