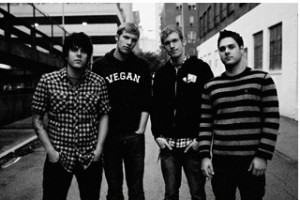 The Swellers will be entering the studio next week with producer Bill Stevenson to record the follow-up to their critically acclaimed 2009 Fueled By Ramen Records debut Ups and Downsizing. The as-yet-untitled album is set for a summer 2011 release. Bill weighed in on the deal:

I couldn't be more excited to produce The Swellers' next album. I met these guys in 2007 when they toured with my band, Only Crime. We all became fast friends and kept in touch over the years. Even four years ago, their live show impressed the hell out of me, and I knew that I wanted to work with them on an album one day. Together, I think we can push their music to the next level and help them reach a broader audience. I can't wait to get started!
The band returned the love with their video statement which you can find here. After the recording wraps up, they will be hitting the road with Silverstein, Bayside, Polar Bear Club and Texas in July for the Take Action Tour.