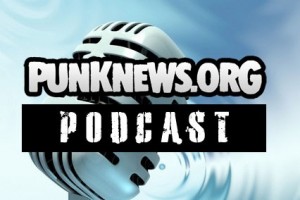 Valentine's Day may have come and gone, but the Punknews Podcast will always and forever remain "numero uno" in your hearts. This week, news editor Bryne Yancey steps into the host/moderator chair (read: it's the same chair) with his friends and confidants Adam White and Rich Verducci at his virtual side to tackle the weighty issue of sexism in the punk scene, as well as Bad Religion opening for Rise Against. Plus tidbits on Davey Havok, Pete Wentz and Guitar Hero, and more.
On top of that, we have music on the show from Boyfriends and Stab City.
You can click Read More to stream and/or download the big show, or subscribe via RSS or iTunes. You can always send us your love letters in the comments section or via e-mail. Past shows are available right here.
NOTICE: We've changed our feed address. Update your subscription to point to http://feeds.feedburner.com/punknewspodcast. If you're using iTunes it should transfer over automatically in a little while.