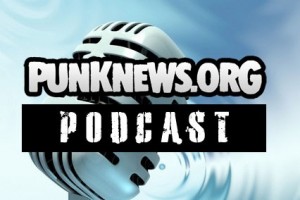 The prodigal son returns! This week on the Punknews Podcast managing editor Adam White and news editor Bryne Yancey are joined by Punknews alumni Scott Heisel to celebrate our 10,000th review and talk punk. Will Scott renounce Alternative Press and return to the fuzzy unpaid blue glow of the Org? Tune in to find out! While you're there we'll chat about Against Me!'s Total Clarity release, new albums from The Swellers and Heartsounds, and the upcoming Alkaline Trio project.
On top of that, we have music on the show from Brutal Knights and Gates.
You can click Read More to stream and/or download the big show, or subscribe via RSS or iTunes. You can always send us your love letters in the comments section or via e-mail. Past shows are available right here.
NOTICE: We've changed our feed address. Update your subscription to point to http://feeds.feedburner.com/punknewspodcast. If you're using iTunes it should transfer over automatically in a little while.