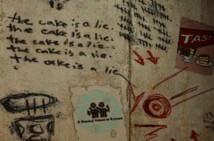 The National, who appeared on many of our Best of 2010 lists last year, will be writing an original song for inclusion in Portal 2, the highly anticipated game from Valve Software. The band's management commented:

After I met with Valve and learned about the intricacies and story line of the first Portal game, I knew The National's music would fit beautifully in the sequel. The National's raw and emotive music evokes the same visceral reactions from its listeners that Portal does from its players. It was exciting and a privilege to bring together two exceedingly talented creative teams to create something special for Portal 2.
The game is due out April 20th, 2011. After that, Valve shouldd immediately begin work on Half Life 2: Episode Three, but probably not.