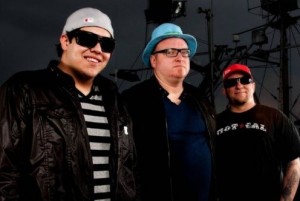 Fueled By Ramen Records has signed Sublime With Rome, the band featuring drummer Bud Gaugh and bass player Eric Wilson – both founding members of Sublime – alongside singer/guitarist Rome.
The band, which began as a touring lineup after a 2009 reunion, first talked about recording last summer. They are now at work at the Sonic Ranch Studio in El Paso, Texas with producer Paul Leary (Butthole Surfers, Sublime, Meat Puppets, Long Beach Dub Allstars), They plan to release their new album in the summer. Rome commented:

Shit's been going amazing in the studio. The music has been coming along great, and we're confident that we're making a record that will stand the test of time. We can't wait for the fans to hear it, and are already planning a world tour to bring it to them live.
Sublime with Rome will be streaming live from the studio on Monday, March 21 at 6pm PST/9PM EST. The feed will appear on the band's Facebook Profile.