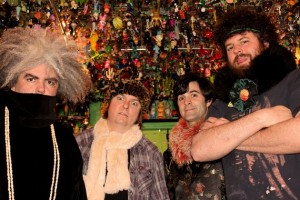 Melvins have announced a special series of shows where the band will play some of their early '90s records across two nights in each city.
The first night will feature an initial set of songs from 1992's Lysol and 1991's Eggnog EP, and then a second set with cuts from 1993's Houdini. On the second night, the band will pull from 1991's Bullhead for the first set and 1994's Stoner Witch for the second. No one and nobody will be opening.
The band will be supporting their new live record, Sugar Daddy Live, due out May 31.
| | | |
| --- | --- | --- |
| May 13 | Seattle, WA | The Crocodile |
| May 14 | Seattle, WA | The Crocodile |
| May 16 | San Francisco, CA | Great American Music Hall |
| May 17 | San Francisco, CA | Great American Music Hall |
| May 27 | Austin, TX | Mohawk |
| May 28 | Austin, TX | Mohawk |
| May 31 | Chicago, IL | Double Door |
| June 1 | Chicago, IL | Double Door |
| June 3 | Boston, MA | Paradise Rock Club |
| June 4 | Boston, MA | Paradise Rock Club |
| June 6 | Brooklyn, NY | Music Hall of Williamsburg |
| June 7 | Brooklyn, NY | Music Hall of Williamsburg |